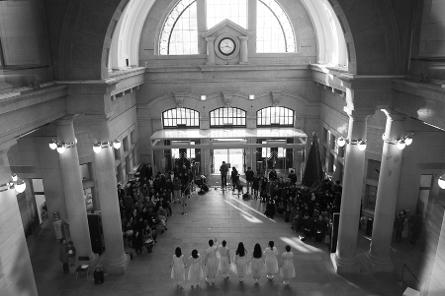 Distorted perceives the new sphere of Korean dance secured in the name of tradition. Yanghee Lee researches to grasp the fundamental attributes of Korean dance such as pure language and form of movement. Exploration and articulation traditional forms on the stage, Lee especially challenges the hierarchical system of apprentice in Korean dance by inviting her master to be a dancer in her performance with pointing out the clichés that are particularly prevalent among in the Korean dance culture humorously.
Distorted https://vimeo.com/63030772
PLAYTIME: The Waiting Room of Episteme
Dec 23. 2012. Culture Station Seoul 284, Korea
Conceived and Choreographed by Yanghee Lee
Create and performed by Hyejin Jeong(music), Hyejin Kang, Shinrock Kim, Mi Kyung, Sunyoung Seo, Jongwook Yang, Migwang Lee, Yanghee Lee, Wonjung Jang, Areum Choi
Photo by Kihwan Lim
* Distorted was originally commissioned by the Fresh Tracks Program of New York Live Arts, supported, in part, by the National Endowment for the Arts USA and Arts Council of Korea.